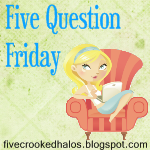 1.
If you could buy any car, money not an option, what would it be?
Easy, Aston Martin. They are beautiful, and lovely, and expensive. I will NEVER own one, but one can dream.
2.
What was your worst first date ever?
I haven't really had any. :)
3.
How old were you when you fell in love for the first time?
17 and that was my first really serious relationship. It didn't work out, but the ending to it led me to where I currently live now and my husband. I couldn't be happier.
4. W
hen was the last time you reconciled your checkbook?
Um, I have no freakin' idea. We never overdraft so I guess that is good. Thank goodness for online banking!
5.
If you were going to fashion a "Wanted" Ad for a best friend, how would you word it?
Missing. Tall, beard wearing, goofy guy who is probably singing to himself!