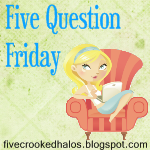 Calf socks in the winter, but I am not a fan of socks so when it gets even slightly warm I wear flip flops sans socks!
2. Was your childs (children's) name a mutual decision or was it a debate? If you don't have children, do you plan on giving your spouse a say, or do you have a name you MUST have, regardless if your other half likes it or not?! (From
@momtodh
)
Mutual. We are lucky that we love the same names and seem to always agree on them! Makes it a lot easier!
Spring time weather is my favorite. I love the rain, the smell of blooming flowers and all the good stuff. I love hot weather too, if there is water around to cool off in!
4. If left to your own devices, what time would you wake up every day? (From Sandy at "
Pardon My Dust
")
If my lovely son would sleep in I would probably sleep until 8. That is about perfect! I love mornings, just not at 5-6 am!
5. Have you bought your cemetery plots yet? (From Pam at "
Troop Petrie
"
)