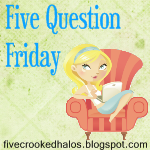 1. W
hat is your current favorite tv show?
Hmm, I like to watch TV but during the summer it kind of stinks. I saw that The Marriage Ref starts again on Sunday and I love that show!
2. W
hat's the worst haircut you ever got?
I used to have hair that was spiky in the back and pretty short. At the time I thought it was awesome, but awesome it was not!
3.
What was something that you did as a child that you thought you were so cool for doing?
Playing hockey, but I was cool for doing that. :p
4. D
o you have any GREAT frugal family fun tips?
Plan a menu out in advance! It helps us eat healthier, look for deals before we go to the grocery store, and my husband loves knowing what we are going to have for dinner! It has really helped us save money!
5.
Would you drive across country if you had the money to fly?
Yes, I actually prefer to drive...especially with a baby!
He loves driving, even though it doesn't look like it!