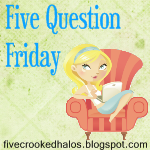 1. If you had the opportunity to bungee jump, would you?
I have before, and might again. My only problem with it was that it killed my back. Like my back hurt for a long time after!
2.
Would you rather go to the movie theater or to the drive-in?
If we had a good drive in that could be fun, in nice weather. I do love a good movie in the theater though! So, I pick both!
3. Do you have your groceries delivered?
No, but I love that option! Although, my husband is great at picking up groceries, so in that sense I do!
4. Eyebrows:
Do you wax, thread, pluck, or stay
au
naturel
?
I have been au naturel lately because I am broke and lazy, but I love to get my eyebrows threaded! Sounds like a zipper though, ick!
5. W
ould
the people you went to high school with be
surpri
sed
by your life today?
Nope, I don't think so. Kids, husband, moved away. Sounds about right.