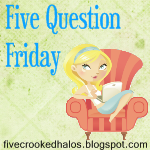 1.
Did you make any fun purchases this week?
Hmm, nope not this week. We seemed to spend a lot on Fletcher's birthday a couple weeks ago (still need to get that one year post up!) so we are trying to not spend as much this week. It kind of stinks because I saw some cute things for Huxley's room that I REALLY want to buy! I guess I did buy Fletcher some skater shoes for fall.
2.
If you could go to any musical concert, what would it be?
Well, I would say DMB but I have seen them...lets see...I have lost count! LOTS! So, with that said I would have to say it would have been fun to see The Beatles back in the day or Morrissey. Love me some Morrissey.
3.
What is your least
fav
/ most
fav
house chore?
I HATE putting laundry away. It is so NOT fun. The only time it is okay is when you have a newborn in the house, because their clothes are just oh-so-cute! I actually really like dusting, so that would be my fave!
4. W
ould
you prefer new appliances or clothes?
Normally I would say new appliances but since we aren't planning on staying in this house all that long I would go with clothes. This Mama needs some new maternity clothes!
Easiest question of the day, mayo! The only time I would pick Miracle Whip over Mayo is on a BLT.