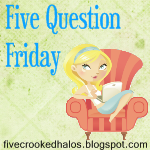 1. Do you prefer cotton, silk, or flannel sheets?
Cotton in the summer and flannel in the winter. I really like soft sheets and silk just hasn't done it for me. It gets all sticky and blah. No thanks! Speaking of sheets, I really need to buy a new set soon. It has been far too long!
2. What time zone are you in?
Eastern, although after six years I am still getting used to the shows being on later! I grew up in Central time zone and I think my body will always think it should be that!
3. What is your favorite part of the holiday season?
Ohhhh, I like a lot of it! I love cooking (thanks Mom and Grandma for teaching me!), decorating my house and of course buying my family presents. Fletcher is especially fun to buy for! This year I will have TWO little guys to buy for! Can't wait!
4. What is your favorite "wintry" drink? (It doesn't have to be an "alcoholic" drink!)
Hot chocolate, warm apple cider, and WINE!
5. In your opinion, what is the worst job in the world?
Most of the jobs on Dirty Jobs, or being a banker. I just could NOT handle that.