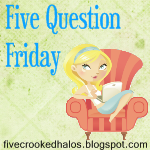 1.
What's the last thing you spent too much money on?
Probably my cell phone or baby clothes. I don't actually spend that much money on things, but if I could I would go crazy with clothes for Fletcher and Huxley!
2.
What celeb chef would you want to make you dinner?
There are so many but I really like Giada De Laurentiis' food. I have tried quite a few of her recipes and they were tasty!
3. W
here do you hide things when visitors pop over or do you let them see the real deal?
Usually see the real deal. I would love for my house to always be completely clean, but that isn't the case and I am fine with that.
4. W
ho is your oldest living family member?
My Grandpa, Jim. He is 92 and still super feisty!
5.
What is your favorite DQ treat and/or Sonic drink combo (ie: cherry vanilla dr. pepper)?
ALL OF THEM. No, really I love all of them. I do really like the grape creamslush from Sonic in the summer and my choice of blizzard changes throughout the year. Right now I am on the blizzard of the month kick, Caramel Nut Roll! Delish!